RV Owner Service Resources
For information about your RV, usage required maintenance, and warranty, please refer to your owners packet, manufacturers website and/or individual product websites.
What's the difference between maintenance and repairs?
Maintenance is the routine scheduled services, inspections and part(s) replacements that your vehicle's manufacturer's recommends based on vehicle age or mileage intervals.
Repair services are required or suggested when a part(s) on your vehicle are not working properly, or is close to the end of its useful life.
Both maintenance & repair service often involve the placement of worn part(s) to sustain the performance of the vehicle.
Thank you for choosing Mike Thompson RV for your RV Service needs.
To help us help you, please follow the below preparation steps prior to your scheduled appointment.
Remove all food items from refrigerator.
Remove all personal items of value, including: money,
jewelry, guns and alike.
Have both black and grey water tanks drained. If work is to be done on waste tank system, please make sure to leave dump valves open and caps off.
Make sure to have at least a 1/2 tank of fuel for generator work..
We need remotes to test and/or replace TV's, Radios, DVD Players, and Satellite Receivers.
Thank you for helping our Service team while we strive to provide you with excellent service.
Online Parts Catalog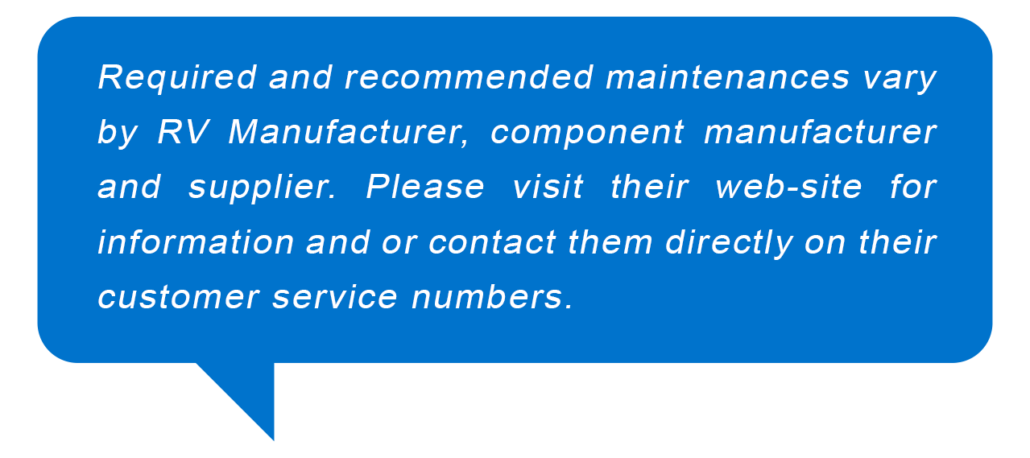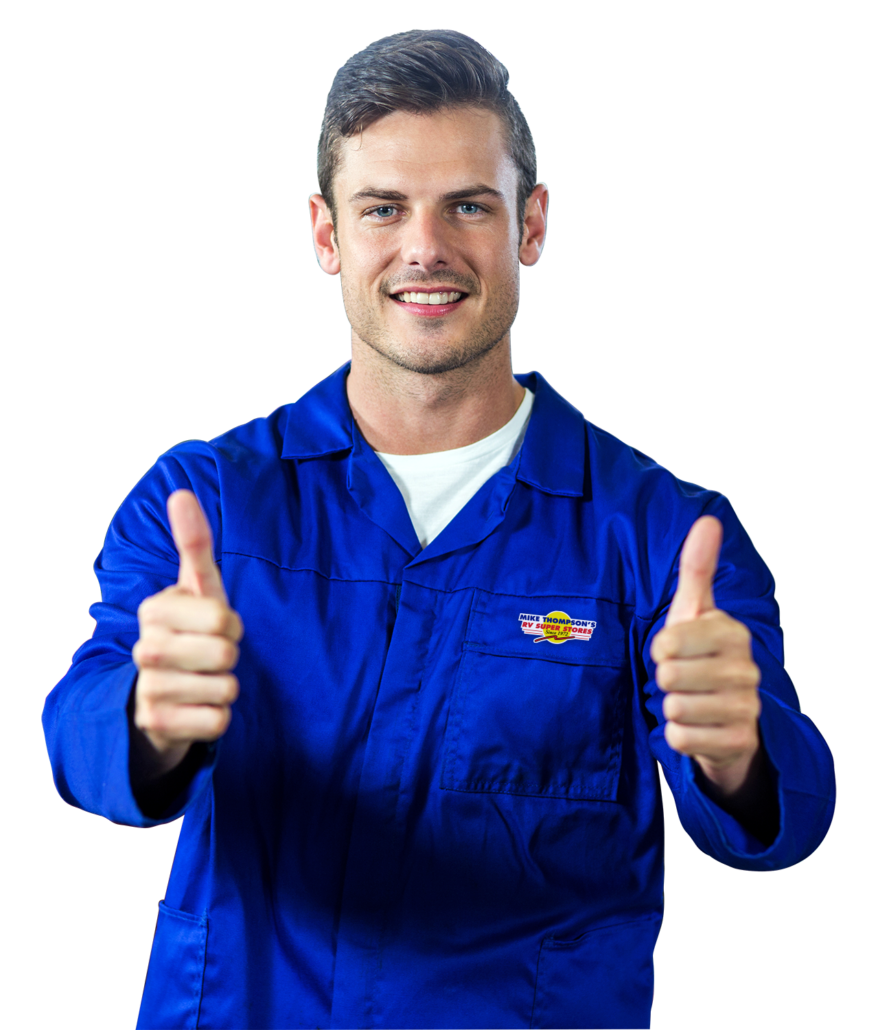 RV STORAGE PREPARATION & GENERAL CHECKLIST
Visit manufacturer's web site for additional information.
Remove all food items from RV.
Defrost refrigeration and clean leaving doors slightly ajar.
Leave drawers and cabinets slightly open.
Properly store all linens and clothing.
Turn off all gas appliances and turn off the LPG at the tanks.
Wash and clean interior of RV.
Close all windows and blinds or shades.
Remove all dry cell batteries from devices such as remotes, etc.
Apply Rodent inhibitors, I.E. moth balls, rodent sprays.
Check fluid level in batteries.
Fully charge batteries. (connect smart trickle charger or similar)
Completely wash exterior of RV.
Protect RV with quality spray or other type of wax and/or RV cover.
Check roof seals and vertical seals and repair as necessary.
Treat all rubber seals on compartment doors and slide-ins.
Spray all locks and hinges with a quality lubricant.
Add a quality fuel stabilizer.
Run vehicle and generator to distribute stabilizer.
Inflate all tires to maximum P.S.I. listed on sidewall.
Place treated wood between ground and tires.
Chock the front and rear tires.
Cover tires with a quality RV tire cover.
Slightly raise or lower front of RV to allow water run off.
Winterize the RV plumbing system.
Remove all liquid products that may freeze.
Visit RV at least monthly.
Check battery level.
Exercise generator.
Check overall RV condition.
Roadside Chassis Assistance

Depending on your chassis, your RV may qualify for roadside chassis assistance. If your chassis is not listed here, then please contact a local dealer.

Ford: 1-800-241-3673
Chevy: (800) 243-8872
Mercedes-Benz: 1-800-367-6372
Dodge: 1-800-521-2779
Freightliner: 1-800-385-4357

RV Manufacturer Contact Information

In the event that you experience a problem with your RV while traveling and unable to location the nearest authorized warranty repair facility, contact the manufacturing facility for assistance in locating the nearest repair center to your location. Please download the manufacturer directory below.

Tiffin: (256) 356-0261
Thor: (877) 855-2867
Grand Design: (574) 825-9679
Eclipse RV: (951) 684-6868
Genesis RV: (951) 337-0250
Roadtrek: (800) 663-0066
Keystone RV: (866) 425-4369
Winnebago: (800) 537-1885
Forest River: go to ForestRiverinc.com and "Contact Us" and search by brand

After-Purchase Insurance & Service

Mike Thompson RV Sales & Finance Dept's offers a diverse selection of after-market purchases of Insurances and Service Plans. For assistance please contact the numbers listed below.

Secure Shield: (888) 356-6605
Nation Safe Drivers: (888) 684-9327
Protection Plus: (800) 346-6469
American Guardian: (800) 579-2233
Compass: MTRV Service Dept. or (800) 579-2233
Stargard: (800) 443-5535

Others numbers for Assistance:

Tyron: (813) 620-0364
Campers Edge: MTRV Service Dept's or (877) 477-4251
ExtraRide Protective: (800) 323-5771
MaxxGard: (800) 854-6223
Prevent A Theft: (800) 854-6223