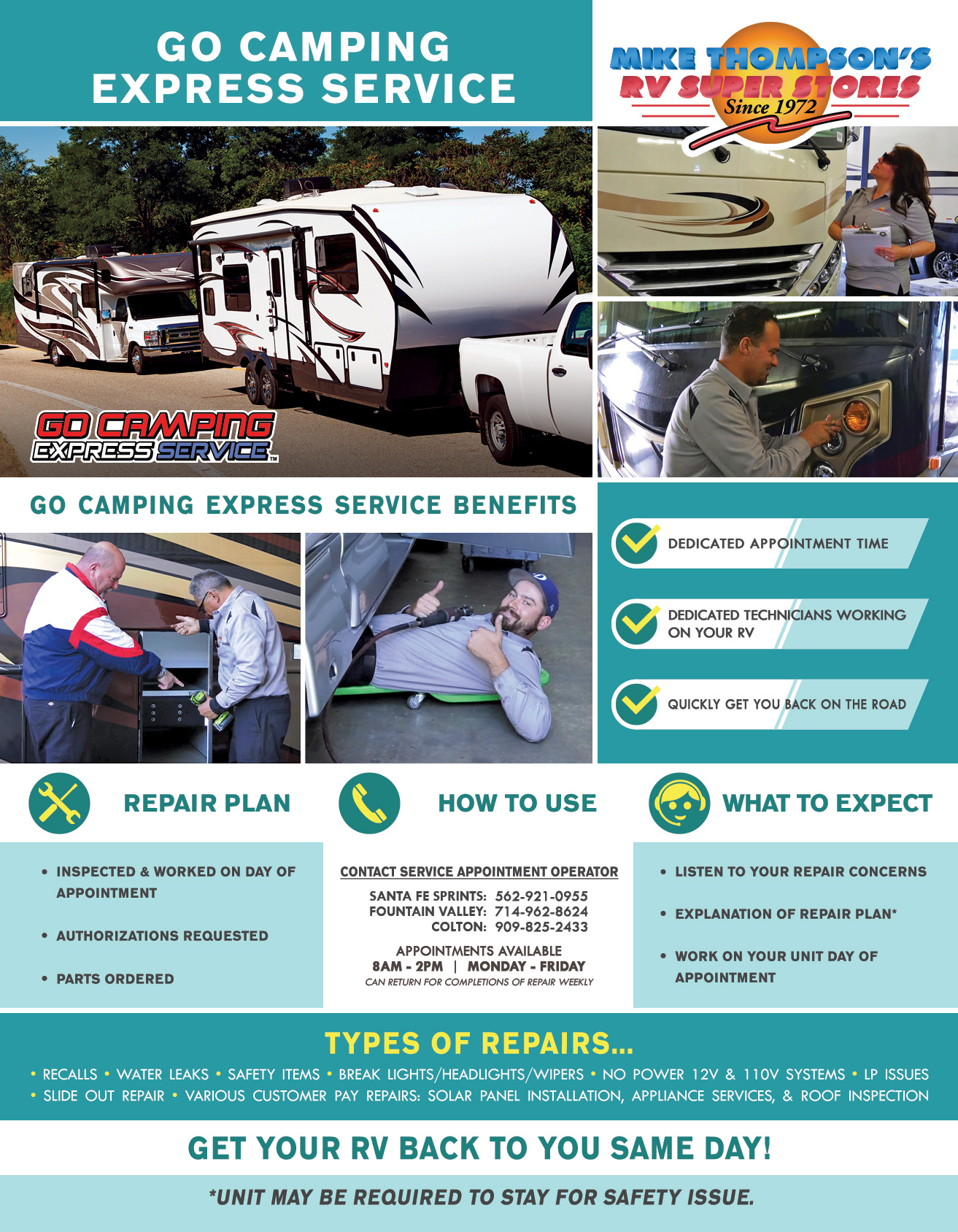 Didn't buy your RV from us?
No problem! We are able to assist a wide variety of RVs, even if we didn't sell it to you. Give us a call today to see what service & parts needs we can fulfill for you!
Top Factory-Trained RV Technicians
We have factory and industry trained and certified Staff and Technicians. We are equipped to make your motorhome or trailer suitable for you and your taste.
We accommodate most types of repairs that may arise with your
We honor all warranty work for the products we sell. We accommodate most types of problems that may arise with your Coachmen, Forest River, Grand Design, Itasca, Keystone RV, Pacific Coachworks, REV, Tiffin Motorhomes and Thor Motor Coach, in an efficient, precise, and timely manner.
For Information about Your RV, Usage requirement maintenance and warranty. Please refer to your owners packet manufacturer website and/or individual product websites.

We install, hitches, Solar Panels, Inverters, Air conditioners, Satellites, Wi-fi and do RV Maintenance

2 convenient ways to request a Service Appointment
Call us M-F from 8:00AM to 5:00PM and ask for a Service Operator:
Colton:

909-825-2433

Fountain Valley:

714-962-8624

Santa Fe Springs:

562-921-0955

and/or

714-522-0250
Fill out this online form 24 hours a day, 7 days a week and we'll contact based on our Service Operator hours shown above.
---
Roadside Chassis Assistance

Depending on your chassis, your RV may qualify for roadside chassis assistance. If your chassis is not listed here, then please contact a local dealer.

Ford: 1-800-241-3673
Chevy: (800) 243-8872
Mercedes-Benz: 1-800-367-6372
Dodge: 1-800-521-2779
Freightliner: 1-800-385-4357
Tiffin-Chassis: 256-356-0261
Winnebago Industries: 888-890-1742
Forest River (Saferide RV MOTR Club): 866-209-2895
Forest River (Coach-Net): 877-801-0333
Compass Service Contracts: 866-209-8274

RV Manufacturer Contact Information

In the event that you experience a problem with your RV while traveling and unable to location the nearest authorized warranty repair facility, contact the manufacturing facility for assistance in locating the nearest repair center to your location. Please download the manufacturer directory below.

Keystone Mobile App
MY KEYSTONE APP
(VISIT APP STORE TO FIND)
Winnebago Mobile App
WINNEBAGO LIFESTYLE
(VISIT APP STORE TO FIND)
Coachmen RV Owners Guide Mobile App
COACHMEN RV OWNERS GUIDE
(VISIT APP STORE TO FIND)

After-Purchase Insurance & Service

Mike Thompson RV Sales & Finance Dept's offers a diverse selection of after-market purchases of Insurances and Service Plans. For assistance please contact the numbers listed below.

Secure Shield: (888) 356-6605
Nation Safe Drivers: (888) 684-9327
Protection Plus: (800) 346-6469
American Guardian: (800) 579-2233
Compass: MTRV Service Dept. or (800) 579-2233
Stargard: (800) 443-5535

Others numbers for Assistance:

Tyron: (813) 620-0364
Campers Edge: MTRV Service Dept's or (877) 477-4251
ExtraRide Protective: (800) 323-5771
MaxxGard: (800) 854-6223
Prevent A Theft: (800) 854-6223

Chassis Service Center

Ford

• South Bay Ford
888-426-9096
• Tom's Truck Center
855-907-5862
• Hemburg Ford
800-656-7511
• Fritz Ford
951-687-2121

Chevrolet

• Penske Chevrolet
562-426-3341
• Simpson Chevrolet
714-656-2802
• Diamond Chevrolet
909-883-8833

Dodge

• Orange Coast Dodge
714-587-6119
• Huntington Beach Dodge
714-847-5515
• Moss Bros. Dodge
866-329-5555
• Colton Truck
909-825-4080

Freightliner

• Velocity Truck Center - Whittier
800-366-4621
• Velocity Truck Center - Carson
310-984-3950
• Velocity Truck Center - Fontana
800-673-0500
• Rincon Truck Center
949-492-3520
• Trans West
909-770-5170
• Colton Truck
909-825-4080

Spartan

• Rincon Truck Center
949-492-3520
• Colton Truck
909-825-4080

Cummins

• Rincon Truck Center
949-492-3520

Mercedez-Sprinter

• Mercedez-Benz of Anaheim
888-428-4501
• Mercedez-Benz of Laguna Nigel
949-347-5528
• Mercedez-Benz of Long Beach
562-471-5319
• Walters Mercedez-Benz of Riverside
951-441-6188

Powerglide

• Rincon Truck Center
949-492-3520
• M&M Coach
909-627-6000